ASUS ROG Strix G17 AMD Ryzen 9-7845HX 16GB DDR5-SDRAM 1TB SSD NVIDIA GeForce RTX 4070 17.3″ FHD Windows 11 Home Gaming laptop G713PI-HX049W
The latest AMD Ryzen™ 9 7845HX CPU, paired with up to an NVIDIA® GeForce RTX™ 4070 Laptop GPU with a max TGP of 140W, as well as a MUX Switch with NVIDIA Advanced Optimus support the backbone of the 2023 Strix G17. Conductonaut Extreme liquid metal on the CPU keeps the Strix G17 boosting the processor higher, for longer. Up to 32GB of cutting-edge DDR5 memory keeps your CPU fed at all times, ensuring a responsive experience. PCIe 4.0 SSD support means that you'll never need to wait for file transfers or game loading screens again.
GeForce RTX 40 Series Laptops
Beyond Fast for Gamers and Creators
AI-Powered Performance and Lifelike Graphics
Get a quantum leap in performance in games and creative apps with AI-powered DLSS 3 and enable lifelike virtual worlds with full ray tracing.
Accelerate Your Ideas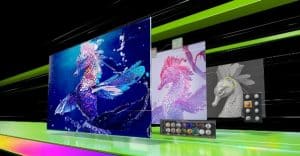 NVIDIA Studio takes your creative projects to the next level. Unlock RTX and AI acceleration in top creative apps, NVIDIA Studio drivers for max stability, and a suite of exclusive tools to fast-track your creativity.
Optimized Power and Performance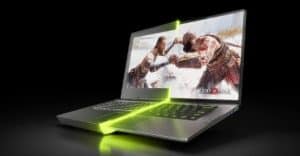 NVIDIA Max-Q is an advanced suite of AI-powered technologies that optimize your system for peak efficiency. This enables blazing-fast laptops that are thin, quiet, and have amazing battery life.
Raise your Game. Call the Shots.
Power up your Windows 11 Pro gaming with the ROG Strix G17, now featuring up to an AMD Ryzen™ 9 7845HX CPU and up to an NVIDIA® GeForce RTX™ 4070 Laptop GPU.
Gaming power optimised
Top-tier components require power, especially when it comes to cutting-edge GPUs. Powered by NVIDIA DLSS 3, ultra-efficient Ada Lovelace arch, Max-Q Technologies, the NVIDIA® GeForce RTX™ 4070 Laptop GPU is fully unleashed with a max TGP of 140W on Strix G17. Higher power limits unlock even more performance from this cutting-edge silicon, ensuring you have the absolute best gaming experience. ​
improves your experience
Top-tier gaming components generate heat, which can impact performance and noise levels. The Strix G17 utilises ROG Intelligent Cooling™ to keep thermals under control. Conductonaut Extreme liquid metal on the CPU begins the process, lowering temperatures by up to 15° Celsius compared to traditional thermal pastes. Four exhaust vents make sure that the laptop can rid itself of excess heat as efficiently as possible. Software profiles customise the experience, with Silent Mode keeping noise levels quiet in lighter tasks, and performance mode unlocking the power of your laptop by increasing both graphics power limits and fan speeds. The Strix G17 is surprisingly quiet in any scenario, at just 35db in Silent mode, 40db in Performance mode, and 51db in Turbo mode. No matter what you're doing, you can choose the ideal balance between power and acoustics